Teens in Toques: ADF In the News.
Teens in Toques
City Youth Program Gets Kids in the Kitchen and Out in the Culinary World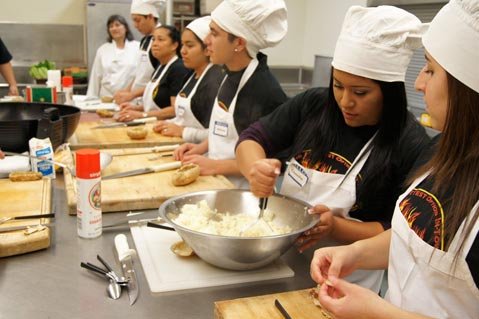 The big, industrial-strength Blodgett stove blasts heat into the kitchen, but 10 teens remain cool in their busy buzz as they prep twice-baked potatoes. One, gingerly handling the nubbin of the cheddar cheese block, worries, "I'm going to grate my fingers into the cheese," only for Chef Ian Trenwith, teacher for the program, to jokingly reply, "Fingers are okay, no nails."
But perhaps Trenwith isn't joking, for the students in the Teen Culinary Arts Program—which runs from February 3 to May 26 and is sponsored by Santa Barbara Parks & Recreation, the Santa Barbara Foundation, Bragg Health Foundation, and the Adelle Davis Foundation—are certainly getting their fingers deep into the world of the kitchen, from cooking to catering. This new pilot program, part of HOT (Healthy Options for Teens), is aptly billed as a "window into the life of a food chef or a special event coordinator." What that description leaves out is just how much fun it all seems to As the potatoes bake in the oven, Chef Trenwith—who owns Jolly Brothers Caterers and rents out the Westside Center's kitchen on West Victoria Street in addition to working with the kids there—preps the teens for their first big coming out: a VIP luncheon they'll be preparing on April 1. Grabbing a sauté pan, filling it with cooked pasta, and dabbling that with sauce, he smoothly goes into the chef's traditional toss instead of a stir. Soon, all the students try, too, and instead of a gloppy pasta-plosion across the kitchen, things tend to go well, if often timidly. Still the effort, the joy, the accomplishment—you can't help but see it on each student's face… (Read more at independent.com)
Adelle Davis Foundation Comments:
What we were most proud of was the communities response to this program. This response can be found in the comments section at the independent.com:
"This is exactly the type of program that kids need: I don't know Anita Ho or Chef Trenwith, but it's clear they're doing a great job. Kudos to Bragg, Adelle Davis, SB Foundations and SBPR for supporting them.
Cooking is fun, life-giving and easier than people think. It's also the single best way to prevent obesity, and many chronic illnesses. I am lucky to teach on TV and online with ChefMD, but the most satisfying teaching is hands-on in the kitchen.
And for health, how you cook is as important as what you cook, to prevent and treat illness,. But just starting is what's really important."
Keep up the great work!
John La Puma, MD
Recommended
Leave a Comment
You must be logged in to post a comment.