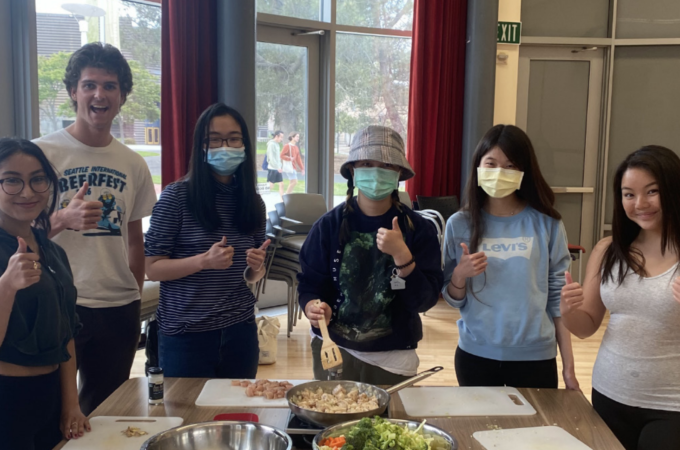 UCSB Cooks
One of our most popular programs under Food, Nutrition and Basic Skills is UCSB Cooks which provides five weeks of hands-on nutrition & cooking skills education to students with no cooking experience. The series is taught in a cohort model with lessons that offer a coordinated sequence of skills incorporating content on: budgeting & planning meals, kitchen basics, cooking & nutrition, and food sourcing. UCSB Cooks is offered both in-person and remotely which helps facilitate program access for our diverse student population.
Offering UCSB Cooks online allowed the course to accommodate more students because there is no limit to room occupancy rates or cooking burners which contributes to the growth of the program. Students enjoyed the opportunity to cook from the comfort of their own
kitchen, asynchronously, and feed others in their household. Remote students are sent grocery gift cards to cover ingredient costs and are tasked with shopping for their own dietary needs. Students were also given the kitchen equipment needed to participate.

Our in-person format allows students to form a community with others who are navigating college and are interested in learning new ways to stretch their budget by learning to cook. As you can see from the below infographic, there were 101 students enrolled in Spring 2022
UCSB Cooks, making it the largest cohort yet.
The Food, Nutrition and Basic Skills program benefits students on campus and offers career development to the interns who develop and run events. The interns are Servsafe trained and receive valuable experience facilitating workshops on nutrition, health equity, food preparation, meal planning and budgeting. These skills are utilized personally and professionally even after they graduate. We strive to establish a culinary education hub on campus, one similar to the teaching kitchens five of the other UC campuses have. The vision of being able to build a commercial teaching kitchen would establish a permanent place to provide culinary education to the students and staff of UCSB. This kitchen would add a critical resource further strengthening our efforts to expand and deliver hands-on cooking education and ensure facilities for the longevity and stability of the program. We thank partners such as the Adelle Davis Foundation for supporting our efforts to teach Food, Nutrition, and Basic Skills to as many students as we can.
More:
Recommended