UCSB Wellness Program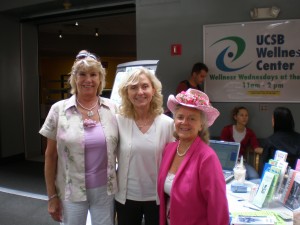 The Adelle Davis Foundation is a proud sponsor of the UCSB Wellness Program, Eloise Dilling, Gabe Dominocielo and Patricia Bragg attended a thank-you luncheon at the UCSB Faculty Club. After lunch, our group went to the UCEN Wellness Center which is located next to the Visitor's Center (Pictured to the right). Both the Adelle Davis Foundation and the Bragg Health Foundation gave gifts to UCSB.
THE UCSB WELLNESS PROGRAM  SAYS:
At UCSB, the term "wellness" describes a three-tiered approach to student services. This approach supports healthier learning environments through the provision of services that treat and prevent illness/ injury Tier 1, promote health Tier 2 and the pursuit of flourishing Tier 3. The UCSB Wellness Program emphasizes the third tier. Its goal is to encourage all students to flourish at UCSB through positive engagement. This goal is met by connecting students to strength-based campus and community resources and opportunities.
Strength-based campus and community resources offer students the opportunity to engage in activities that encourage them to be:
BALANCED: Giving the physical, mental, and social dimensions of one's life significant attention has clear health and academic benefits.
PROACTIVE: Intentional activities are well documented to be the most promising determinant of long-term happiness.
POSITIVE: Positive Psychology provides a research base for the pursuit of flourishing via the three routes to happiness:

Pleasures: Increase positive emotions through forgiveness, savoring, and hope.
Enjoyments: Use one's strengths to pursue "flow" activities that often result in heightened states of awareness, confidence and performance.
Meaning: Use one's strengths to join others in community contribution.
More Information:
http://www.facebook.com/UCSBWellnessProgram
http://www.ia.ucsb.edu/ucsb-foundation/images/private-giving-05-06.pdf
Recommended
Leave a Comment
You must be logged in to post a comment.