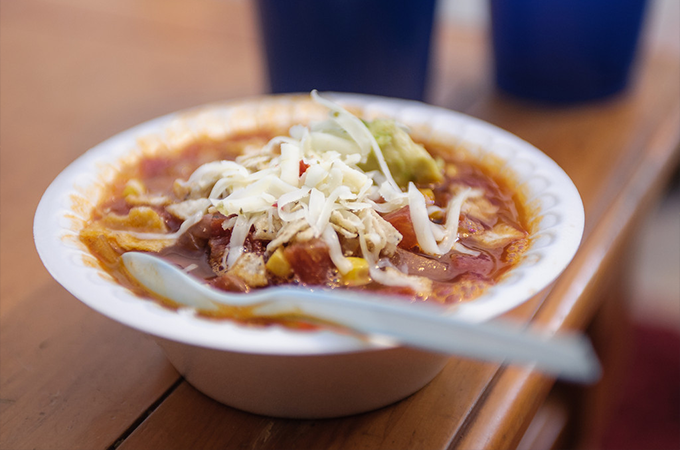 Tortilla Soup by Guest Blogger Jen!
We are so fortunate to have Jen Meress of http://peaseatwell.com/ as our guest blogger here at the Adelle Davis Foundation!
She is a student at UC Santa Barbara, where we support and are a part of the Health and Wellness Program http://wellness.sa.ucsb.edu/
Jen is part of Gauchos in the Kitchen, a group started and ran by students who come together each week and cook healthy, clean eating recipes and share their love for cooking, creating and healthy living.
This past week they made an incredible and very healthy Chicken Tortilla Soup (Jen also offers a vegetarian option as well). Check out the delcious recipe below- perfect for these cold nights! And a big shout out and thank uou to Eric Swenson, a photogrpaher for UCSB's school newspaper, The Daily Nexus http://dailynexus.com/
These students are incredible!
Chicken or Vegetarian Tortilla Soup
By Jen Meress
Cooking is an outstanding way to express yourself. Cooking with others is a way to form connections that you may not be able to form in any other area of your life. It brings people together, and that is what makes it so fabulous!! I am in a group called Gauchos in the Kitchen at University of California, Santa Barbara, where we all come together as a group and make outstanding recipes! Last week we made a fabulous tortilla soup that was so delicious, I have to share with you guys!
Although not all the ingredients are organic because the group is on a budget you can easily buy and swap any ingredient for an organic option!
Ingredients:
1 onion, chopped
5 cloves garlic, smashed
1 can crushed fire roasted tomatoes
1 can low sodium chicken broth (Or vegetable broth if you prefer having a vegetarian option!)
¼ cup water (or more depending on how thick you would like it)
1 cup corn, cooked and drained (frozen is fine)
½ can black beans, washed and drained
½ can pinto beans, washed and drained
½ can green chili peppers
1 teaspoon dried oregano
½ jalapeno (if you like spice!) or 2 teaspoons chili powder
1-2 boneless skinless chicken breast (optional)
Olive oil (for cooking)
salt + pepper
For topping
¼ cup fresh cilantro
1 bunch green onions
3 limes
3 avocados, sliced
crushed tortilla chips (optional)
Directions:
We baked the chicken and it turned out fantastic because we added a lot of spice to it.
1. First preheat oven to 350 degrees. Cut the chicken breast into chunks and season with salt, pepper, dried basil and dried oregano. Depending on how much chicken you are cooking, cook for about 30-40 minutes while checking occasionally.
2. Meanwhile while the chicken is cooking, in a stock pot add olive oil and heat. Then add the chopped onion until it starts to brown, about 7 minutes.
3. Add garlic. Then add tomatoes, chili powder (or jalapeno), oregano, broth, and water. Bring to a boil.
4. Stir in beans, peppers. Once chicken is done add that into the soup. Stirring occasionally.
5. Ladle the soup into bowls and add toppings! Enjoy!
Recommended