Clean Eating Series- Meet Our Guest Blogger!
Say hello to our first guest blogger, Jen Meress! She has a a blog, http://peaseatwell.com/ that has amazing, healthy, simple recipes for any day of the week! As part of our Clean Eating Series, Jen will be sharing some of her clean recipes, from breakfast, lunch, dinner and dessert she shows us how you can eat clean, even on a budget and with limited time! Jen is also part of our college contributor program here at the foundation. Please welcome Jen and read on to learn more about her blog and how she started to adopt a healthy lifestyle!
Jen, you say food is the best medicine on your blog. As you may know, Adelle Davis said, "As I see it, every day you do one of two things: build health or produce disease in yourself." When did you start to notice that food truly is medicine?
Jen: I've always grown up around wellness. My father owns an alternative medicine clinic back home where I am from. He has always emphasized clean eating. I would always choose veggies over chips, or healthier options at meal times. I started to notice a huge difference in high school, when all my friends would go grab a burger at a fast food restaurant and I would get one too. Afterward I would feel less energized and awful for a couple hours. This was not a pleasant feeling, so I began to listen to my body and realizing that healthy, whole foods make me feel great and more energized.
Tell us what it is like to eat mostly organic, unprocessed foods on a regular basis AND on a college budget? Can you share tips for anyone who is looking to eat healthy and clean on a budget?
Jen: Sometimes it can be hard but there is always a way! I go to the Farmer's Markets around town and might splurge from time to time. Trader Joe's is my go-to, delivering USDA organic food at a very affordable price, even for a college student. I spend just as much money as my roommates when we shop and I mainly buy organic food! What we put into our bodies should be the important thing we spend our money on.
Your recipes are delicious and healthy AND simple! How do you find inspiration for your healthy recipes?
Jen: I am constantly watching the Food Network! I also spend time searching for recipes and ideas online. Sometimes I have a craving and get creative with what I have in my kitchen. My inspiration comes from the things I crave! It's simple, I swap out the bad, unhealthy ingredients for nutritious and delicious ingredients!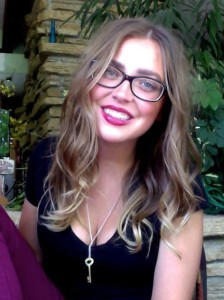 Gluten Free/Sugar Free Maple-Almond-Apple Crisp!
One of the worst possible things is buying organic apples and having them all be mushy! I strongly dislike mushy apples, they are horrible! YUCK! So what do you do when you have five mushy apples that you do not want to throw away? And some leftover gluten free oatmeal you need to use up? You make apple crisp of course!!
Ingredients:
-5 apples, sliced (fills about 5 and a half cups)
-1 cup organic sliced almonds
-1 and 1/2 organic gluten free oats
-3 tbsp coconut oil
-Juice from one organic lemon
-1/2 teaspoon nutmeg
-1/2 teaspoon cinnamon
-1/2 teaspoon pumpkin spice
1/2 teaspoon all natural vanilla extract
-1/4 cup pure maple syrup or agave sweetener
Directions:
Preheat oven to 350 degrees.
Combine apples, almonds, coconut oil, lemon, spices, and pure maple syrup, set aside. Then toss gluten free oats and a splash of the maple syrup in a bowl to coat before pouring them over the mixture.
Cook for 45 minutes or until the oats begin to brown!
Enjoy this delicious and nutritious dessert!
Recommended