Lindsay Levine of the Popular Weeknight Bite!
Christina Markos
Lindsay Levine, of the amazing and very popular site WeekNight Bite is here today to share her incredible clean-eating, guilt-free and healthy Oatmeal Banana Cookies that are so delicious, I make them for myself and for friends and family all the time! She is also here to share some great time-saving tips while eating healthy and amazing meals every night of the week! Check out WeekNight Bite for a wonderful selection of recipes and tutorial cooking videos from the incredibly talented Lindsay!
Welcome Lindsay Levine of WeekNight Bite! Weeknight Bite is an amazing site where Lindsay shares recipes and videos of her delicious, healthy, and quick meals that are perfect for any night of the week! Lindsay, a Southern California foodie lives for a great meal, has a serious weakness for sweets, and loves to spread happiness by cooking for friends and family. We are so excited and honored to have her joining us this week to share one of her many amazing recipes. You must check out Weeknight Bite, where you'll find cooking tips, tricks, and videos of healthy and delicious recipes that are quick and effortless and go along with clean eating.
She is here today to share her Guilt-Free Oatmeal Banana Cookies that are incredibly delicious, you won't even know you are eating something healthy! It is a great example of how clean eating is not a diet, and there are so many ways of using healthy ingredients to create "clean" versions of your  favorite treats and deserts!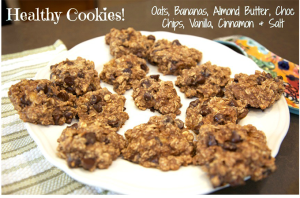 Christina: Lindsay, I have tried many of your recipes and love them all! These oatmeal banana cookies are seriously addicting! I make them for all of my friends, even those who are vegan or gluten-free because they have no egg, no dairy, and only use oats. What inspired you to make these cookies and how did you come up with this recipe?
Lindsay: Thank you! I'm so happy that you like them! As you mentioned, I try to eat very healthy and clean, but I have a major sweet tooth! So I set out to create a cookie recipe that would satisfy my sweet cravings, but wouldn't leave me with the guilt of overindulgence. I decided to use all natural ingredients, and I was determined to make the recipe perfectly delicious, without the traditional ingredients in classic cookies like sugar, oil, butter, eggs. I was so excited and pleased with how the cookies turned out – my discriminating sweet tooth was very happy! The mashed bananas add that perfect sweetness, the oats provide fiber and will keep you full, and the almond butter provides those good, healthy fats. That's really the base of the recipe, and then I added all of my favorite flavors and extra ingredients! Another reason why I love this recipe is because it's the ultimate in easy clean-up! You can mix everything in one bowl and within 15 minutes, the cookies are baked and ready. There's nothing better than healthy, effortless recipes that leave you feeling great!
C: These cookies are so easy to make and you can add whatever extras you want, like chocolate chips or dried fruit and nuts. You can have these for breakfast, a snack or dessert they are so versatile. What is your favorite combination(s)?
L: You're so right! You can really add in any of your favorite flavors to make these cookies unique to you! They can be a perfect on-the-go breakfast when you make them with chopped nuts and dried fruit instead of chocolate. Or if you still want that chocolatey flavor in a more natural way, you can add in cacao nibs. I love to add shredded coconut in the cookies for some extra texture and flavor as well. Another variation is using peanut butter instead of almond butter, because what's better than chocolate, pb, and banana!? In the fall, I make them with white chocolate or yogurt chips and dried cranberries and cherries. It's just the perfect combo of flavors! No matter what, I always top them with a sprinkle of sea salt flakes for that amazing salty-sweet flavor combination. It's always fun for me to hear what readers add into their cookies to make them extra healthy and yummy!
C: Tell us a little more about WeekNight Bite and tips on eating healthy even on a budget or when you are pressed for time?
L: WeekNight Bite is all about quick, healthy, and easy recipes for people who want to eat right, but not spend the whole night cooking and cleaning in the kitchen. After working a long day, most of us just want to whip up a quick meal that is delicious and ready to go in a matter of minutes. One tip that helps save time is buying pre-chopped ingredients. Rather than spending the time chopping up onions, carrots, and celery for a soup base, I like to buy Mirepoix from Trader Joe's which is already chopped and ready to go. (http://www.traderjoes.com/fearless-flyer/article.asp?article_id=1029) I also love using Dorot frozen herb cubes (www.mydorot.com). These are fresh herbs that have been chopped and frozen into perfect little cubes, which makes it very easy to pop right into the dish you're making that night. For example, I'll pop a few garlic and basil cubes right into my pan with extra virgin olive oil before adding in my fish, veggies, or chicken, and it adds a ton of flavor in a matter of seconds. I also love the ginger cubes and add them in my green smoothies or juices in the morning, rather than taking the time to peel and chop those knobby pieces of fresh ginger! You'll see tons of recipes on my site that use these wonderful cubes! Lastly, I try to focus on one-pot meals which make cleanup a breeze, so you can have your great dinner and move on with your night! WeekNight Bite will provide you with tons of recipe ideas that will help you cut your cooking time and still create healthy balanced meals!
Thank You Lindsay!
Recommended